tp-link
Why choose a TP-Link smart home system?
Your home, smarter
If you're looking for a way to cut costs around the house, then a TP-Link smart home is the ideal solution. Investing in smart power such as smart lighting, plugs and switches can help you save hundreds of pounds each year; and also enables you to adapt your lighting to suit your mood or any occasion. Watching a romantic film on the sofa? Dim the smart light bulbs for the perfect setting. It's your home - just smarter.
What does a TP-Link smart system do?
Customise your lighting to match any mood or event
With TP-Link smart light bulbs, you can customise your lighting at any time to create the perfect atmosphere. Use your smartphone to set schedules and ensure that the lights go up or down when you want them to; creating the perfect mood and saving energy around the house when you're not in the rooms. If you're watching a movie in the living room or hosting a dinner party, you can adjust the smart light bulbs however you like for the perfect ambience.
Control your devices from anywhere
TP-Link smart plugs enable you to manage your electrical appliances anytime, anywhere at the touch of a button. You can switch any of the connected devices on or off remotely and even schedule them to turn on or off when you want them to, in order to arrive home to a lit home or to save energy throughout the day. Investing in smart power and smart plugs can save significant sums throughout the year, and you can even monitor your usage over time to make sure that your savings pile up.
See what's going on at home when you're not there
TP-Link Cloud Cameras are the perfect solution to home monitoring, keeping you in touch with what matters most even when you're hundreds of miles away. These smart security cameras feed images and video back to your smartphone or tablet giving you the peace of mind you need while you're out at work, away on holiday or visiting friends and family. Users can receive notifications and emails directly to their smartphones whenever movement or sound is detected.
Control your smart home with the TP-Link KASA app
With TP-Link smart plugs and smart light bulbs, all you need is access to a tablet or smartphone and you have complete control over energy use throughout your property – even when you're not at home. Manage all of your devices and appliances remotely, set schedules for smart plugs and light bulbs or even group your devices together to control them all at once. You can even pair them with up and coming devices such as Amazon Alexa or Google Assistant for added voice control.
Take control with the tpCamera
With TP-Link Wi-Fi cameras situated around your home you can keep a close eye on what's going on even when you're miles away. These clever smart security cameras record video and take images which can then be emailed or pushed straight to your smartphone or tablet whenever movement or sound is detected.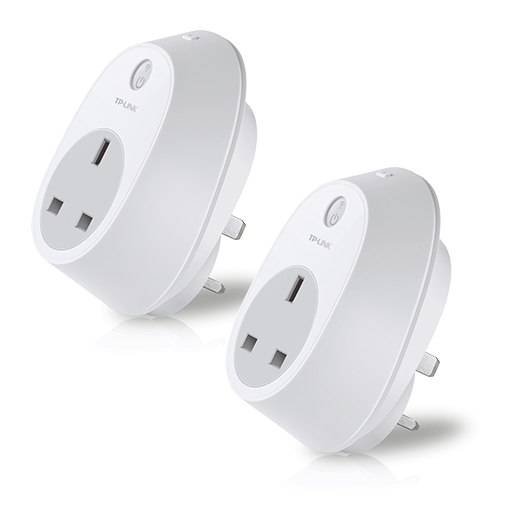 TP-LINK Wi-Fi Smart Plugs
Control any device connected to your TP-Link Smart Plug wherever you have Internet, using the free Kasa app on your smartphone. Schedule the Smart Plug to automatically power electronics on/ off as needed; like setting lights to come on in the evening or turn off at sunrise. You can even turn your devices on/ off at different times to make it look like someone's home. Pair your TP-Link Smart Plug or Bulb to Amazon Alexa or Google Assistant and voice control your home. Set schedules for the smart bulbs and save your light settings as different scenes – whether watching a movie, or relaxing with a book.
TP-Link Smart Wi-Fi Bulbs
TP-Link Wi-Fi Cloud Cameras
TP-Link Wi-Fi Smart Plugs
---