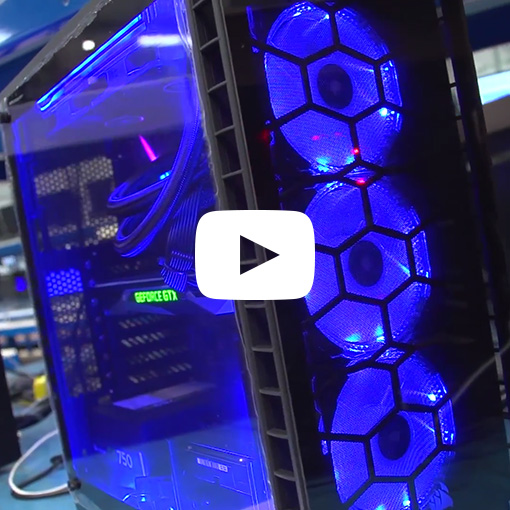 Each of PC Specialist's PCs has been custom built to their customers' specifications - including the products featured by us. That means they're exclusive, tailor-made PCs you can't get anywhere else. PC Specialist is an official Intel® Platinum Technology Provider and official Microsoft® Gold Certified Partner. For their PCs, they use the best quality components from the biggest brands; such as Intel, AMD, Corsair and ASUS.
What does PC Specialist offer?
Official Intel & Microsoft Partners
PC Specialist is one of the select few companies who are an official Intel® Platinum Technology Provider. That means they have access to product training, the latest and best products, offering the highest performance for your PC. They're also an official Microsoft® Gold Certified Partner, which shows their commitment to skills and training using Microsoft® products. As well as partner with two of the biggest PC manufacturers, PC Specialist won 'Best PC Manufacturer' in the 'Computer Shopper Awards 2017'.
Rigorous PC testing & quality control
PC Specialist have an extensive multi-point quality control procedure to make sure their products are of the best quality. Each and every order is checked against their control checklist. Their stress tests procedure is one of the most important stages of production. Expert technicians run a bespoke suite of tests across all PCs, Laptops & AIOs over a 24-hour period. These involve heavy processing load and multiple reboot loops, which help identify any potential faults or cooling issues. Any faults found are fixed before the system is tested again. Only when a system passes all tests will it move onto the next stage of production.
Bring your games to life with powerful processors & graphics
Get the raw speed and performance to take on next-generation technologies like 4K, and experience the fastest, smoothest and most advanced desktop PC gaming possible. Enjoy your favourite games on PC Specialist's powerful gaming PCs. Play a range of popular games; from Minecraft, League Of legends, World Of Warcraft, Rocket League, to Call of Duty WWII, Battlefield 1, Grand Theft Auto V and Assassin's Creed: Origins.
Anywhere is a great place to play
Experience the freedom to play your games wherever you want. Now when you own an Xbox Play Anywhere1 title, it's yours to play on both Xbox One and Windows 10 PC at no additional cost. Simply log into your account on Xbox Live and download the game. It's that easy. Play games like ReCore, Gears of War 4, and Halo Wars 2 on Xbox One or Windows 10 PC. Then pick up where you left off on another Xbox One or PC, bringing all your saves, game add-ons, and achievements with you.
Need some help choosing a PC?
Pick your PC based on the games you like to play
Already know which games you (or a loved one) likes to play, but not sure which PC would work best? We can help you. Our PC Specialist games configurator lets you pick the games you like to play first, then reveals the best PC for your needs. Like to play World of Warcraft? Try the PC Specialist Fusion Core Gaming PC. How about Call of Duty WWII? The PC Specialist Fusion Chimera Gaming PC is the perfect choice.
Click on the games you'd like to play:
BT Shop recommends:
BT Shop recommends:
---
---