UHD certified
Experience Ultra HD certified for true colour and clarity. Samsung certifies that this TV meets DigitalEurope's quality requirements for a UHD TV.
Active Crystal Colour
Discover a wider colour range that feels so real with Ultra HD certified and Active Crystal Colour technology. See the beautiful shades of an autumn wood or the rich tones of the latest action movie.
Quicklinx:
CT2RWS00
| Mfr#:
UE49MU6400UXXU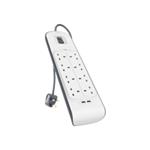 Two discs, Wi-Fi everywhere
Designed specifically for flats and smaller homes with 1-2 bedrooms, BT's Whole Home Wi-Fi Twin Pack delivers superfast, super-reliable Wi-Fi for every room. The two brilliant discs create a complete Wi-Fi network, eliminate deadspots and get you connected on multiple devices, anywhere in your home. Whole Home Wi-Fi comes with an app to give you complete control. It helps you find the best location for each disc during set up, shows who is connected and even lets you pause the internet for some time offline. Whole Home Wi-Fi knows where you and your devices are and when to automatically switch them from one disc to another.
Save £50! Usually £149.99

Quicklinx:
D543WS00
| Mfr#:
092099
Get a free Chime Pro in our Ring bundle offer!
Get a free Chime Pro worth £44.99 when you buy a Ring Video Doorbell v2! Get next-level security and convenience that works on any home and includes a rechargeable battery pack. Watch over your home in crystal-clear 1080HD video, and see, hear and speak to visitors from anywhere. With instant mobile alerts and two-way talk, you can answer the door from your smartphone, tablet and PC. You'll get instant alerts when motion's detected, allowing you to protect your property from the comfort of your smartphone. Chime Pro extends your Wi-Fi signal and amplifies your Ring alerts. Plug Chime Pro into any standard power outlet and link it to all your Ring devices.
Ring Video Doorbell v2 & Free Chime Pro bundle
A new chapter for the PC
Wherever you go, the Galaxy Book fits right in. With a slim, stylish and compact design, the Galaxy Book can easily sit by your side on long commutes keep you entertained wherever you are. It quickly turns from a tablet into a laptop, so you can seamlessly switch from entertainment to work on the Galaxy Book's detail-packed 10.6" display. With Windows 10 built in to the Galaxy Book, this 2-in-1 feels just like a laptop – but without the added bulk.
Quicklinx:
CZVBWS00
| Mfr#:
SM-W620NZKBBTU
BT Black Friday Deals
We'll be bringing you a wide range of high quality electrical items and gadgets at vastly reduced prices – for one day only! Throughout Black Friday we'll be marking down a number of popular and must-have items for you to treat yourself to – or for your loved ones – ahead of the big Christmas rush.
Tired of playing the same old games on your old console, or trying to work from home on an outdated laptop or desktop PC? We've got fantastic Black Friday laptop deals and discounts on games consoles, bringing you the very best in gaming and computing at incredible prices – including the latest tech from brands such as Apple, Asus, Google, Samsung and Xbox.
Perhaps you've been eying up a new television for the past few months, but haven't been able to settle on the perfect one (we know, too many choices!) Well now's the time to cash in, because we've got plenty of Black Friday TV deals at BT Shop with 4K UHD, HD and 3D-ready TVs available.
When is Black Friday 2017?
Black Friday 2017 takes place on Friday 24th November. From the stroke of midnight we'll be hammering down the prices on all kinds of great tech including electronics and gadgets; bringing you hundreds of Black Friday laptop deals, games console savings, TV offers and huge discounts on smart home products including the very latest smart speakers.
The best way for you to stay in touch with this year's BT Shop Black Friday sale is to sign up to our newsletter. By doing so you can have reminders delivered straight to your inbox so you can take advantage of our Black Friday tech deals as soon as they're released.
Don't wait too long, however, as these in-demand gadgets are likely to go quickly. This means that the Asus laptop, Energenie starter pack, Google Home smart speaker or Samsung S8 smartphones you've been looking at might be there one minute and gone the next – so set your alarm to ensure that you don't miss out this Black Friday!
What is Black Friday?
In the past few years, Black Friday has developed into the biggest shopping day in the United Kingdom. Originally from the United States, Black Friday is typically the working day immediately after the Thanksgiving holiday, dating right back to 1932. Having made its way across the Atlantic, Black Friday deals are now available across the UK both in-store and online, with shoppers able to get their hands on luxury and in-demand items at prices reduced for one day only.
The day has received plenty of media coverage in recent times, with shoppers desperate to get their hands on Black Friday TV deals and reduced-price games consoles, laptops, stereos and much more. In 2015 shoppers spent a whopping £2billion in stores and online across the UK on Black Friday, so take the stress out of shopping and pick up a bargain in this year's BT Shop Black Friday event.
What BT Black Friday deals are available?
For the gamers among you, put your old console away and pick up a Nintendo Switch that comes with Red Joy Controllers and the Super Mario Odyssey game. Get your hands on the new console and treat yourself to some new games with your savings!
If music is more your thing, we've also got plenty of Black Friday deals on headphones and smart speakers to make sure that your home is filled with your favourite tunes whatever mood you're in. The savings don't end there either, you can pick up a brand new home entertainment package with Black Friday deals on smart 4K UHD TVs and more.
Alternatively, why not give your home a modern makeover with our incredible Black Friday smart home deals? We've got one of this year's must-have devices, the Google Home smart speaker, and a whole range of other innovative systems at mind-blowing prices but be quick – they won't hang around for too long!
So ahead of the traditionally chaotic Christmas shopping trips, take the stress and cost out of buying for your loved ones and enjoy huge savings on our Black Friday tech deals from some of the world's biggest brands.
Of course, if you don't manage to pick up one of our Black Friday offers you can always wait for Cyber Monday and take your chances then to see what goes on sale.
What is Cyber Monday, and when is it?
For those who might be a bit too busy to shop the best Black Friday deals, or who may have missed out, Cyber Monday presents a final opportunity to grab a bargain. With more of the biggest brands and most popular products available at highly discounted prices, you can pick up a top quality laptop, television, games console or home entertainment system in our Cyber Monday event, taking place on Monday 27th November.